Honor has another flagship series ready to go, in the Magic 5 line. The Magic 5 Lite is already on sale, and soon it will be joined by the 5 and 5 Pro, given a launch at the MWC trade show.
Here's what you need to know about the Magic 5 phones – and everything we can find about any other models set to launch in the future in China.
When will the Honor Magic 5 go on sale?
Honor gave the Magic 5 and 5 Pro a splashy launch – along with the Magic Vs foldable's European debut – at the MWC trade show in Barcelona on 27 February. Both phones are set to go on sale some time in Q2 2023 – i.e. April-June.
The company had already revealed the Magic 5 Lite by then, which launched in February, just a week or two before the main event.
The launch timing makes sense given that the Honor Magic 4 was revealed almost exactly the same time at MWC last year.
Last year Honor also announced a China-only Magic 4 Ultimate. We've heard rumours of a similar model this year – perhaps under a new name – but it hasn't launched yet.
As with previous models, you most likely won't be able to buy the Magic 5 at all in North America.
How much does the Honor Magic 5 cost?
So far we only have pricing for the three models going global, and for the 5 and 5 Pro we only have those in Euros.
First up, the Magic 5 will set you back €899, which gets you 8GB of RAM and 256GB storage.
Upgrading to the Pro costs €1,199, but that includes a bump to 12GB RAM and 512GB storage. This is a slight increase on the €1,099 Magic 4 Pro, which ultimately cost £949 in the UK.
The Magic 5 Lite is much cheaper at £329/€369 – a small increase on the Magic 4 Lite, which launched at £299/€349.
What are the Honor Magic 5 series specs and features?
Let's split things up by the phones we know all about, and the phones we don't.
Honor Magic 5 Pro
First up, we know plenty about the Magic 5 Pro now that it's gone official.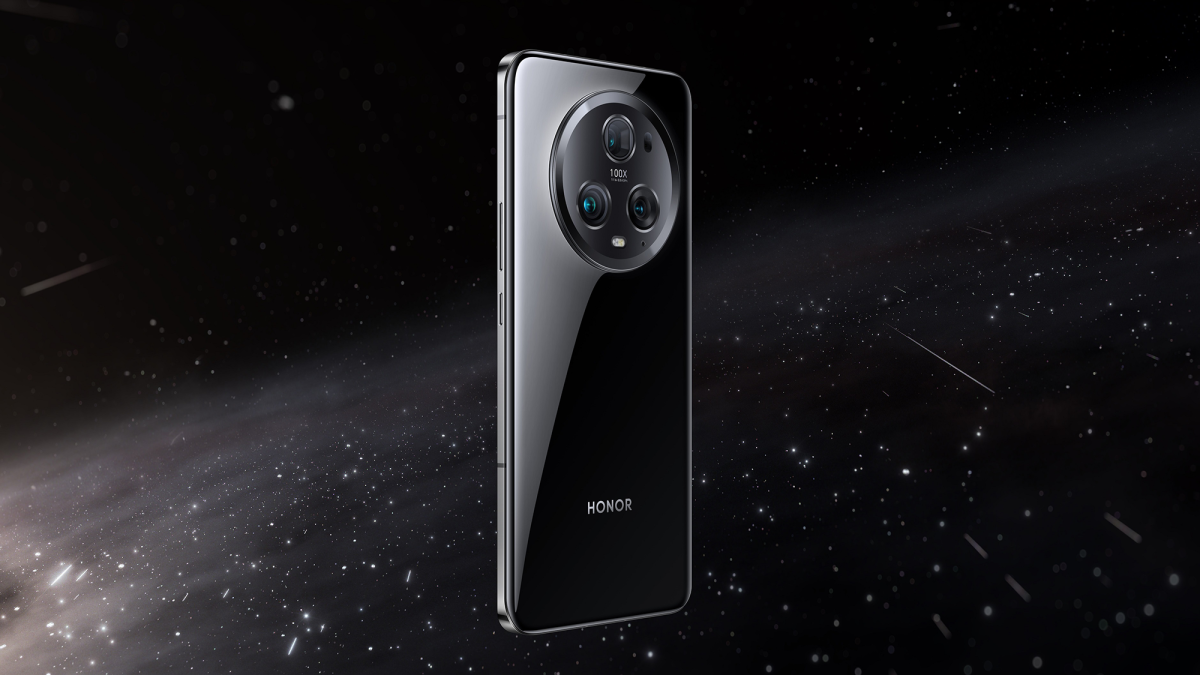 Dominic Preston / Foundry
This is the flagship phone worldwide, with the usual array of top tier specs.
It's powered by the Qualcomm Snapdragon 8 Gen 2 chip, the most powerful around right now.
The design is familiar, with a classic glass slab and a circular camera module on the rear. An IP68 rating should keep it safe from dust and water.
The main launch is in black and green models, though worldwide there will also be blue, purple, and orange versions of the phone.
The 5100mAh battery should delivery lengthy performance, with 66W wired charging and 50W wireless speeds.
The display is also top tier. It's a 6.81in OLED, but with a few extra tricks. It's quad-curved, so should feel sleek in the hand, and uses LTPO tech for dynamic refresh rate from 1-120Hz.
The 1312×2848 resolution should be crisp, and it supports the usual HDR, a peak brightness of 1800 nits, and excellent colour accuracy. There's even a dedicated display chipset to optimise the HDR features and frame rate while gaming or watching video.
Dominic Preston / Foundry
Honor has also emphasised eye health, with 2160Hz PWM dimming, low blue light emissions, and 'Circadian Night Display' tech to avoid interfering with your sleep habits.
The other standout area is the camera. On the rear you'll find a triple 50Mp rear camera setup – meaning the main, ultrawide, and telephoto cameras all packs that high resolution.
The highlight is probably the large 1/1.12in, OIS-enabled main camera, but all impress on paper. They also benefit from 'Falcon Capture' tech designed to optimise photos of fast-moving subjects.
As for software, the phone runs Android 13 with MagicOS 7.1 on top. It also packs some motion gesture controls – swiping your hand to scroll for example – but we'd be surprise to see those get much use.
Here are the full specs we know so far:
6.81in 1-120Hz LTPO OLED display
Qualcomm Snapdragon 8 Gen 2
12GB RAM
512GB storage
Camera:

50Mp, f/1.6 main camera
50Mp, f/2.0 ultrawide camera
50Mp, f/3.0 3.5x telephoto camera

5100mAh battery
66W wired charging
50W wireless charging
5G
Wi-Fi
Bluetooth
IP68
Honor Magic 5
The regular Magic 5 is surprisingly similar to the Pro given the €300 price difference, so might be the better buy for many people.
You get essentially the same design, including the same size quad-curved display with matching eye protection features.
The Snapdragon 8 Gen 2 powers it, and the 5100mAh battery is the same size too. It even includes the same 66W wired charging, but ditches the wireless charging.
An IP rating is the other major omission, while the cameras are also downgraded. They look similar – and you still get three of them on the rear – but the actual sensors are different: a 54Mp main camera, 50Mp ultrawide, and 32Mp telephoto. Those are all still high resolution, but expect downgrades in image quality compared to the Pro versions.
Here are the full specs we know so far:
6.81in 1-120Hz display
Qualcomm Snapdragon 8 Gen 2
8GB RAM
256GB storage
Camera:

54Mp, f/1.9 main camera
50Mp, f/2.0 ultrawide camera
32Mp, f/2.4 OIS telephoto camera
12Mp selfie camera

5100mAh battery
66W wired charging
5G
Wi-Fi
Bluetooth
Honor Magic 5 Lite
The one phone we know plenty about is the Honor Magic 5 Lite – you can read our review to find out what we think of it.
This is essentially a re-branded Honor X9a for European markets, which you can tell from the way its design differs a little from what we know of the other models in the series.
Jon Mundy / Foundry
With a price of £330/€379, it should be no surprise that this phone is the most basic of the bunch. Still, it packs a 6.67in 120Hz OLED display with curved edges, and a large 5100mAh battery with fast 40W charging.
The Snapdragon 695 chipset is a little more basic, paired with only 6GB RAM and 128GB storage, so performance won't be top tier. Hopefully the 64Mp main camera impresses for the price though – joined only by a 5Mp ultrawide and 2Mp macro, which are unlikely to be much good.
Here are the full specs:
6.67in 120Hz AMOLED display
Qualcomm Snapdragon 695
6GB RAM
128GB storage
Camera:

64Mp, f/1.8 main camera
5Mp, f/2.2 ultrawide camera
2Mp, f/2.4 macro camera
16Mp, f/2.5 selfie camera

5100mAh battery
40W wired charging
5G
Wi-Fi
Bluetooth 5.1
161.6 x 73.9 x 7.9mm
175g
Honor Magic 5 Prestige
Leaks out of China have long suggested that there would be four phones in the Magic 5 range, but so far one of those remains unofficial: the Magic 5 Prestige, which is rumoured to be the name of this year's top model, replacing last year's Ultimate.
It's expected to feature the same Snapdragon 8 Gen 2 chipset, and likely similar display specs too.
Charging should be similar to the Pro, with the same 66W wired charging and 50W wireless charging included on the Prestige.
The big difference is that it's rumoured to use the 1in Sony IMX989 sensor with OIS for its main camera, which would mark a serious upgrade – so far this has only featured in the Xiaomi 12S Ultra, Xiaomi 13 Pro, and Vivo X90 Pro and Pro+, and has impressed in them all.
Hopefully it won't be long until we find out about the Magic 5 Prestige officially, but until then you can check out our guide to the best smartphones to see which models the range will have to overcome, along with the best phones coming out in 2023.